Joe Lundberg at Hero Gear says there were over 600 gigaby
tes of photographs taken at the Hero Gear shoot, so you can imagine there may well be m
ore, but some of the photographers there were taking photos as their jobs, so the fun stuff may take longer to percolate. If there are future roundups, they'll be new posts linked to this one.
Click on the photo to be linked to the page described--don't accept looking at these small link photos or you'll miss out!
The Urban Shooter Podcast (Kenn Blanchard) about the Hero Gear gathering:
Black Man with a BIG gun--that's McCann Industries' new Garand in .458 Win Mag. A Garand capable of taking any game species on the planet. It's amazing . . . . but sadly, it apparently doesn't go "
ping!
"
Oleg Volk's Gallery of Hero Gear Photos
Here's Erika shooting the same Kel-Tec RFB I'm holding in my new page banner. It's a lot more fun to look at than my new page banner.
Skunkabilly's Flickr Photostream
For all you old TFL and THR hands, yes, this is that Skunkabilly. I actually got my son to ask Skunk to show him his carbon-fiber leg at lunch the first day.
Oh, and that's the mortar Kane fired.
Steve Rogers' Gallery
You can't really appreciate this photo in this size, so click on it. Now. The .50 BMG is powerful ballistically, but the unbridled fury of the muzzle brake is astounding.
Randy Samos' Gallery
The Momentum Foundation's helicopter was there for photo ops.
HisAmishness' Gallery
When Randy sees a police vehicle, even a quasi-police vehicle, he just can't stop the instincts. Standard positions are assumed with alacrity. I can only assume this is due to years of repeated, consistent conditioning.
AR15.com Discussion Thread
"KEEP TENNESSEE ZOMBIE FREE"
You can buy this shirt at
www.hero-gear.com
AR15Armory.com Discussion Thread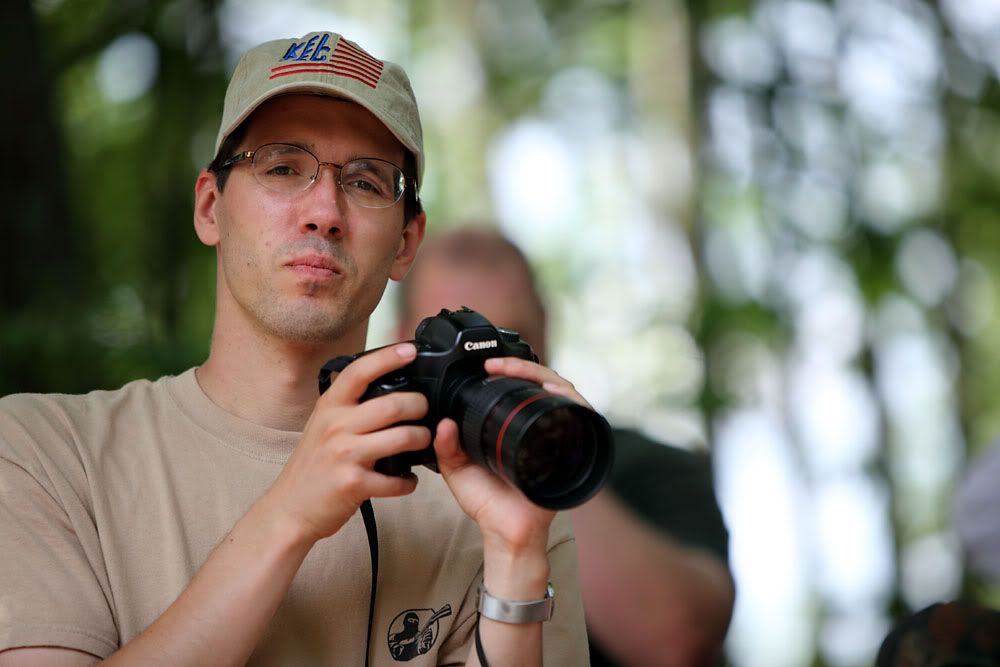 Oleg wonders who farted? I'm only guessing from the photo.
TN Gun Owners Discussion Thread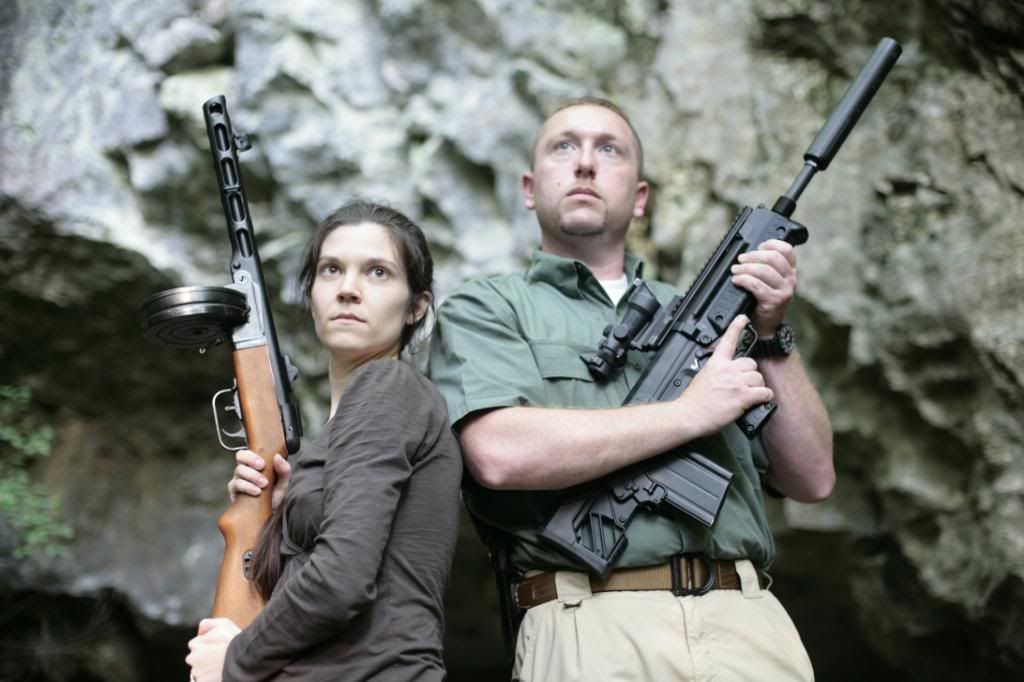 The cave in which this was shot is an amazing place--deceptively deep, with tricky footing, but full of bats, with the roof full of micah and quartz that looks like the milky way when you aim a flashlight upward. It's also full of flint deposits that were mined by paleo-indian tribes thousands of years ago, and Nordeck Johnson, the owner of Round Cove, is an expert on their ways, tools and weapons who can tell you some surprising things. How about paleolithic people who could carry a single long spear, "reloading" it on the run after wounding prey as large as mastodon? The technology changes, but the basic problems really don't.